To Heat or To Heal Our Planet?
Articles on Global Warming/Climate Change and Hydrofracked methane:
(1)Jan. 8, 2013 story from the Huffington Post (edited) on data showing 2012 was the hottest year in the U. S. 
(2) Letter from Sandra Steingraber (excerpts) on fracking and global warming
(3) Article by John Atcheson: Is Climate Change Hell Now Inevitable?
(4) If You Aren't Alarmed about Climate, You Aren't Paying Attention (article by David Roberts, in Grist)
(5) To Understand Climate Change, Listen to Us and Sandy, Too (article by Michael  MacCracken and James McCarthy)
(6) Jan. 2013 letter from Credo (excerpts edited by OV) on impact of methane on climate change
Also, thanks to Richard Averett, current reports on climate change:
WASHINGTON — A new report warns that 
Climate Change
 driven by human activity already is affecting the American people and economy, with more frequent and intense heat waves, heavy downpours, etc.
As the seas start to rise faster, it warns, erosion will only get worse. | John D. Simmons/Charlotte Observer/MCT
Story by Erika Boldstad, McClatchy Newspapers
WASHINGTON — A new report warns that climate change driven by human activity already is affecting the American people and economy, with more frequent and intense heat waves, heavy downpours and, in some places, floods and droughts.
A draft version of the National Climate Assessment that was released Friday warns that as the Earth continues to warm because of increasing levels of greenhouse gases in the atmosphere, the health and livelihoods of many Americans and the ecosystems that sustain the country face some frightening impacts. Sea levels are rising, scientists warn, oceans are becoming more acidic, and glaciers and Arctic sea ice are melting.
The National Climate Assessment, which is required under the Global Change Research Act of 1990, is presented to the president and Congress every four years. It's designed to provide a thorough overview of the status of climate science and climate change impacts.
It came the same week that the National Oceanic and Atmospheric Administration said U.S. temperatures in 2012 were the highest since record-keeping began in 1895. But the draft assessment warns that human-induced climate change "means much more than just hotter weather."
The report references increases in ocean and freshwater temperatures, frost-free days and heavy downpours. There's also more extreme weather, including more frequent and intense winter storms along the West Coast and the coast of New England. Such storms include Sandy in late October, which while not a particularly intense hurricane, exposed the sorts of problems that communities may face as sea levels rise.
"This draft report sends a warning to all of us: We must act in a comprehensive fashion to reduce carbon pollution or expose our people and communities to continuing devastation from extreme weather events and their aftermath," Sen. Barbara Boxer, D-Calif., who heads the Senate Environment and Public Works Committee, said in a statement.
Friday's draft assessment warns that climatic shifts have affected and will continue to affect human health, water supplies, agriculture, transportation and energy. They'll pose the greatest challenges to communities that already are facing economic or health-related problems, and to species and habitats that already face other pressures, the assessment says.
"While some changes will bring potential benefits, such as longer growing seasons, many will be disruptive to society because our institutions and infrastructure have been designed for the relatively stable climate of the past, not the changing one of the present and future," it says. "Similarly, the natural ecosystems that sustain us will be challenged by changing conditions."
Andrew Steer, the president of the World Resources Institute, an environmental research organization, called for the White House to pay attention.
"In his second term, President Obama has a chance to ensure his legacy as a leader on climate change," Steer said in a statement. "Now is the time for the administration to move forward with new standards on power plants and other actions to put America on course to a low-carbon future."
The Clean Air Task Force, a nonprofit organization that focuses on the air pollution from coal-fired power plants, sent a letter this week to the president that outlines steps his administration could take to curb carbon emissions and spur innovation in energy research.
Climate change "involves enormous uncertainties and unknowable risks, multiple and sometimes competing pathways forward, and even disagreement about what 'success' would mean," the letter says. "Still, we know the direction we need to head: towards a society and economy with much lower emissions of greenhouse gases."
The National Climate Assessment is coordinated by the U.S. Global Change Research Program, which is made up of 13 federal agencies. It's produced by the National Climate Assessment Development Advisory Committee, a 60-member federal committee made up of notable scientists, business leaders and other experts.
The final assessment, to be released early in 2014, will document how climate change affects regions and sectors across the United States and how society is responding to it. t.
Email: ebolstad@mcclatchydc.com; Twitter: @erikabolstad
————————————————–
Siberia Could Experience Widespread Permafrost Thaw Due To Global Warming
February 23, 2013
Lee Rannals for redOrbit.com – Your Universe Online
More evidence is pointing to the nightmare scenario that global warming is taking a toll on our planet.
Oxford University scientists say that a global temperature rise of 2.7 degrees Fahrenheit could thaw the ground over a large area of Siberia, threatening the release of carbon from soil.
If the thawing of Siberia's permafrost occurs, it could see that over 1,000 gigatons of the greenhouse gases carbon dioxide and methane are dished out into the atmosphere, adding an even larger global warming threat.
The scientists studied stalactites and stalagmites from caves located along the permafost frontier in Siberia, where the ground stays permanently frozen in a layer of tens to hundreds of feet thick. Because these cave features only grow when liquid rainwater and snow melt drips into the caves, these formations record 500,00 years of changing permafrost conditions.
Records from 400,000 years ago show that a global warming of 2.7 degrees Fahrenheit is enough to cause substantial thawing of permafrost far north from its present-day southern limit.
"The stalactites and stalagmites from these caves are a way of looking back in time to see how warm periods similar to our modern climate affect how far permafrost extends across Siberia," lead author Dr Anton Vaks of Oxford University's Department of Earth Sciences, said in a statement. "As permafrost covers 24 percent of the land surface of the Northern hemisphere significant thawing could affect vast areas and release gigatonnes of carbon."
He said that this research has big implications for ecosystems in the region, and for the aspects of the human environment.
"For instance, natural gas facilities in the region, as well as power lines, roads, railways and buildings are all built on permafrost and are vulnerable to thawing. Such a thaw could damage this infrastructure with obvious economic implications," Vaks said.
During the study, they used radiometric dating techniques to help determine the age of the growth of cave formation. Data taken from the Ledyanaya Lenskaya Cave near the town of Lensk showed that the only period when stalactite growth took place occurred about 400,000 years ago. During this period, the global temperature was 2.7 degrees Fahrenheit higher than today. They believe that this is the tipping point at which the coldest permafrost regions begin to thaw.
"Although it wasn't the main focus of our research our work also suggests that in a world [2.7 Fahrenheit] warmer than today, warm enough to thaw the coldest permafrost, adjoining regions would see significant changes with Mongolia's Gobi Desert becoming much wetter than it is today and, potentially, this extremely arid area coming to resemble the present-day Asian steppes," Vaks added.
Researchers studying Arctic  thermokarst failures in Alaska recently reported similar findings in the Proceedings of the National Academy of Sciences They warned that climate-warming carbon dioxide gas may be releasing into the atmosphere at an unprecedented rate.
This area, like Siberia, holds massive stores of organic carbon that have been frozen in the Arctic permafrost for thousands of years. If it thaws and releases CO2, it could double the amount of greenhouse gas in the atmosphere on a timescale similar to that of man's contribution from the burning of fossil fuels.
———————————————-
Levels of carbon dioxide rose hand-in-hand with warming at the end of the last Ice Age, according to a study Thursday that deals a blow to climate skeptics
French researchers said they had answered a riddle that has perplexed scientists. The question arises from bubbles of atmospheric air, trapped in cores of ice drilled from Antarctica that date back to the last deglaciation, which ended some 10,000 years ago. These tiny bubbles are closely scrutinised, for they contain carbon dioxide (CO2), the principal greenhouse gas behind global warming. The higher or lower the CO2, according to the conventional benchmark, the greater or lower the atmospheric temperature. The anomaly is this: the CO2 in the bubbles do not correspond to the level of warming indicated by the surrounding snowfall of that time.
Climate skeptics argued that this showed the CO2 rose after Earth's atmosphere warming. It would thus imply that global warming today may come, at least in part, from natural means—not from carbon emissions from fossil fuels as the scientific consensus maintains. Writing in the journal Science, a team led by French glaciologist Frederic Parrenin looked at ice from five deep drilling expeditions in Antarctica. By analysing the isotopic composition of the nitrogen gas in these samples, the researchers said they were able to filter out the confusing signal from the data. During the last deglaciation, the temperature rose by 19 degrees Celsius (34.2 degrees Fahrenheit) while at the same time CO2 levels in the atmosphere rose by about 100 parts per million, they said.
The discrepancy comes from the physical process by which CO2 bubbles are formed in successive layers of snow. "The gas bubbles are always more recent than the ice that surrounds them," France's National Centre for Scientific Research (CNRS) said in a statement. Further work will be carried out on different ice samples taken from different eras to see whether this result holds. The researchers said the study did not examine the reasons for the rise in temperature that ushered in today's deglaciation. There are several natural factors for global warming, including volcanic eruption and rock weathering that releases heat-trapping greenhouse gases, as well as modifications in heat from the Sun and tiny changes in Earth's axis and orbit. More information: "Synchronous Change of Atmospheric CO2 and Antarctic Temperature During the Last Deglacial Warming," by F. Parrenin et al, Science, 2013. Journal reference: Science (c) 2013 AFP
Read more at: http://phys.org/news/2013-02-prehistory-co2-lock-step.html#jCp
From the Huffington Post:
It's official: 2012 was the warmest year on record in the lower 48 states, as the country experienced blistering spring and summer heat, tinderbox fire weather conditions amid a widespread drought, and one of the worst storms to ever strike the Mid-Atlantic and Northeast.
The National Oceanic and Atmospheric Administration (NOAA) reported that 2012 had an average temperature of 55.3°F, which eclipsed 1998, the previous record holder, by 1°F.
The 1°F difference from 1998 is an unusually large margin, considering that annual temperature records are typically broken by just tenths of a degree Fahrenheit. In fact, the entire range between the coldest year on record, which occurred in 1917, and the previous record warm year of 1998 was just 4.2°F.
The year consisted of the fourth-warmest winter, the warmest spring, second-warmest summer, and a warmer-than-average fall. With an average temperature that was 3.6°F above average, July became the hottest month ever recorded in the contiguous U.S. The average springtime temperature in the lower 48 was so far above the 1901-2000 average — 5.2°F, to be exact — that the country set a record for the largest temperature departure for any season on record.
"Climate change has had a role in this [record]," said Jake Crouch, a climate scientist at NOAA's National Climatic Data Center in Asheville, N.C. He said it isn't clear yet exactly how much of the temperature record was due to climate change compared to natural variability, but that it's unlikely such a record would have occurred without the long-term warming trend caused in large part by emissions of greenhouse gases.
During the summer, nearly 100 million people experienced 10 or more days with temperatures greater than 100°F, which is about one-third of the nation's population, NOAA reported.
With 34,008 daily high temperature records set or tied the year compared to just 6,664 daily record lows — a ratio of about five high temperature records for every one low temperature record — 2012 was no ordinary weather year in the U.S. It wasn't just the high temperatures that set records, though. Overnight low temperatures were also extremely warm, and in a few cases the overnight low was so warm that it set a high temperature record, a rare feat.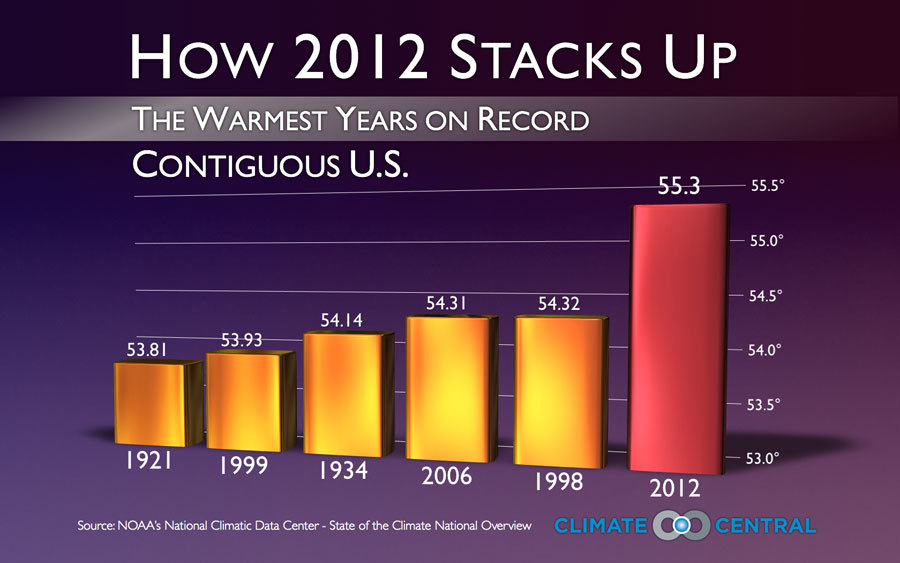 Even more astonishing is the imbalance between all-time records. According to data from NOAA's National Climatic Data Center, there were 356 all-time high temperature records set or tied in 2012, compared to four all-time low temperature records. All of the all-time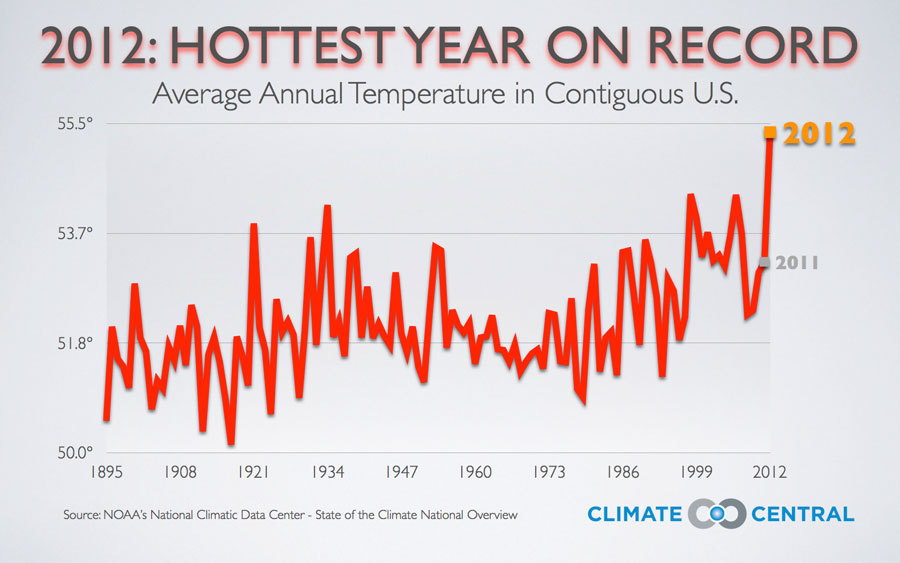 The year was also characterized by extreme drought, and two states — Nebraska and Wyoming — also had their driest year on record. Eight more states had annual precipitation totals that ranked in the bottom 10.
At its maximum extent in July, drought conditions encompassed 61 percent of the nation, with the most intense conditions in the Great Plains, West, and Midwest. The nationally averaged annual precipitation total was 2.57 inches below average, making 2012 the 15th-driest year, and the driest year since 1988, which also featured a major drought.
The drought was instigated in large part of very low snow cover and warm temperatures during the winter of 2011, and record warmth during the spring, which allowed for an early start to the growing season and depleted soil moisture earlier than normal. The record March heat wave put the drought into overdrive, accelerating its development across the Plains and Midwest in particular.The drought conditions created ideal conditions for wildfires, as 9.2 million acres went up in smoke in the West, the third-highest on record.
The same weather patterns that led to the drought helped suppress severe thunderstorms and tornadoes, with a final tornado count that is likely to be under 1,000, which would be the fewest twisters since 2002.
According to NOAA, the year saw 11 natural disasters that cost at least $1 billion in losses, including Hurricane Sandy, which struck the Mid-Atlantic and Northeast on October 29-30.
Globally, 2012 is expected to be ranked as the eighth-warmest year on record.
(2) EXCERPTS from a "Call To Action" Open Letter to New Yorkers from Sandra Steingraber:
Dear fellow New Yorkers,
Dec. 7, 8:00 pm
After days of wild, record-breaking weather, our village winter festival was cancelled because of rain and flood warnings. When I told Elijah the bad news on the walk home from school, he began to cry. I told him I was sorry and that I knew how much he was looking forward to the festival.
He said, I'm not upset about the festival. I'm upset because the planet's dying. I know this is all because of global warming. Just like the hurricane.
And this is what I heard myself say: Mom is on the job. I'm working on it. I'm working on it really hard, and I promise I won't quit.
Now you are all my witnesses.
Dec. 26, 5:00 pm
These words are being written in a cinema bathroom. I'm the chaperone for my 14-year-old daughter and her friends—the movie is rated R—but I've snuck out of the theater to read the proposed revised draft regulations for fracking. There are 328 pages of them, and we've been given only 30 days to offer public comments—right in the middle of the holiday. Pretty much all I've done since December 12 is read regs and help people create comments. To that end, I've dreamed up an Advent calendar project called Thirty Days of Fracking Regs.
It's tough sledding. None of us has access to the previous draft of the regulations—which was removed from the DEC website—so we can't judge how it's been revised. We don't have access to the environmental impact statement that's supposed to serve as the scientific basis for the regulations. That study is not even finished yet. But, as a last-minute maneuver to avoid blowing a deadline, the Department of Environmental Conservation released a huge batch of regulations anyway. They are hastily drawn and full of glaring errors. They are legal placeholders in the march toward fracking in New York State, which makes the whole exercise of submitting comments absurd and maddening.
But this I know: silence is consent.
It's Day 15 in the regs comment calendar. I need to finish tomorrow's post (Section 560.6, on the use of diesel fuel in fracking fluid) before the movie ends. Happily, it's Anna Karenina. I can only hope that Leo Tolstoy and Tom Stoppard are keeping the sex and violence quotient under control.
Am I a terrible mother?
Dec. 27, noon
The deadline for finalizing the regulations is exactly two months from today: February 27.
It's weird to see people shopping, heading out for the gym, and meeting for lunch as though life were normal. As though an army were not massing on the border with plans for occupation. Is that a crazy thought? But that's how the gas industry talks: The shale army has arrived. Resistance is futile. Those were the actual words of Bill Gwozd, vice president of gas services for the Ziff Energy group.
I choose not to believe the second half of that statement.
The shale army is an accident-prone, carcinogen-dependent industry with no boundaries. The shale army seeks to use our land as its beachhead, our water as its battering ram, and our air as its receptacle for its toxic fumes. The proposed regs for New York are no defense. They do not prohibit flare stacks, open pits, or indefinite venting of toxic gases.
My son has a history of asthma. The land all around us is leased.
My daughter will be learning to drive soon. By that time, our rural roads could be filled with fleets of eighteen-wheelers hauling hazardous materials. Data from other states show that the arrival of drilling and fracking operations brings sharp upticks in traffic fatalities.
Resistance is not only necessary, it feels like a fundamental responsibility of parenthood.
This is what I tell my kids: Until further notice, mom is on anti-fracking detail. That's where all our money is going. That's where all my time is going. You'll have to pack your own lunch. We're on wartime footing now.
Am I a terrible Quaker?
Dec. 31, 11:00 pm
New Year's Eve with the regs. It's quiet. I'm working on Section 750.3 tonight. As I type, I see my father's hands. He was an amazing typist. When I was a girl, he let me practice on his prized Selectric, and he challenged me with typing drills: Now is the time for all good men to come to the aid of their country. Over and over I typed those words. Faster and faster.
My father was a life-long Republican. He believed that the words "conservative" and "conservation" shared more than etymology. So do I.
Jan. 3, 2:00 am
I was about to go to bed when a story broke: someone just leaked a document from the NY Department of Public Health. It's an eight-page analysis—drafted last February—that looks to be the beginnings of the health study that is being carried out in complete secrecy. If so, it confirms the worst fears of Concerned Health Professionals of New York. In letters to the Governor, in policy papers, and at press conferences, we've been calling for a transparent Heath Impact Assessment with public participation. This document repudiates that request.
In fact, this document repudiates the power of science altogether. In a series of assertions unencumbered by data, it seems to say that the health effects of fracking are both unknown and unknowable. A Health Impact Assessment is unnecessary because the uncertainties are too great to analyze, therefore the risks can be safely mitigated.
That's not a scientifically sound line of reasoning.
Meanwhile, scientists at the National Oceanic and Atmospheric Administration are reporting an alarming 9 percent leakage rate from drilling and fracking operations. Methane is a powerful greenhouse gas—way more efficient than carbon dioxide at trapping heat. Methane leaks like that, if typical, would mean shale gas is a worse enemy to our climate than coal.
What role will science play in Governor Cuomo's decision on fracking in New York, which grows ever nearer?
(3) Article: Is Climate Change Hell Now Inevitable?*
                                                  by John Atcheson**
 "Men's courses will foreshadow certain ends, to which, if persevered in, they must lead," said Scrooge. "But if the courses be departed from, the ends will change. Say it is thus with what you show me!"  Ebenezer Scrooge, to The Ghost of Christmas Yet to Come, in "A Christmas Carol."
Although I spent most of my career involved in climate change, in the last year, I've resolved to try not to think about it much.  Too stark; too grim.  But from time to time, I screw up my courage, stare into the Eye of Sauron and face the reality of global warming futures.  When I do, I write about it, and the articles have become increasingly dire.  Good friends, relatives, commenters, and colleagues have been telling me to focus on solutions: to accentuate the positive; to avoid doom and gloom.
Of course, that advice assumes our actions will make a difference, that there is still a chance to avert catastrophe.
Can we?  If we depart from our present course will the ends change?
Well, there's a growing consensus that staying above atmospheric concentrations of 350 parts per million will permanently change our climate, and not for the better.
We're now at 392.41 ppm and rising.  This year's catastrophes are a mild preview of things to come.
So regardless of what we do, we have already altered the climate in ways that will cost us a great deal of money, kill millions if not tens of millions, and create as many as a billion refugees by mid century.
Bad as this sounds, there's strong evidence it's about to get a hell of a lot worse.
Positive feedbacks can effectively double the amount of GHG released to the atmosphere, and the worst of these – methane releases from hydrates and permafrost –is self-reinforcing.  That is, once started, it feeds on itself.  More methane means more heat which causes more methane and so on.  This process is slow, but inexorable, once triggered.
We know from the geologic record that runaway methane releases have occurred several times in the past.  Some 55 million years ago, during what geologists call the Paleocene-Eocene Thermal Maximum, temperatures soared, as clathrates (or as they are sometimes known, hydrates) released massive amounts of carbon, mostly in the form of methane.  Many scientists believe this was triggered by volcanic releases of carbon.  Other factors may have been at play, but the key takeaway is that methane releases caused runaway warming that lasted for more than 150,000 years, and that today, humans are releasing carbon at ten times the rate that is thought to have triggered the releases.
Some 600 million years ago, geologists identified another, even more extreme event: the Permian Die-Off.  The period came by the name honestly, as some 94% of the marine fossil record disappeared and biologic diversity plummeted. For a time, life itself teetered on the edge of extinction – all life.  Again, massive methane releases triggered by volcanic releases of carbon are the prime culprit.  And again, our current rate of releases is much faster than the one that started this devastating feedback.
If we have triggered a self-reinforcing methane feedback – and there is growing evidence that we have — then there is little point in talking about solutions.  What is needed is a strategy for maximizing the quality of life for those of our species who survive the coming catastrophe.  There will be fewer of us, and we will consume far less, and the world will be a far harsher place.  We will, quite literally, be inhabiting an alien environment, and our best bet is to prepare ourselves for the softest possible landing in this hostile new world.
But let's say we're lucky, and we haven't triggered this cycle of hellish warming, and "all" we have to deal with is our own emissions.  Do we have the technical solutions to walk us back from the brink of the greatest disaster our species has ever faced?
Yes.  Just barely.
The National Renewable Energy Laboratory found that we could provide 80% of our power needs using renewable energy by 2050, using today's technologies.
And there are a variety of policies that would not only make that affordable, it would make it one of our best opportunities for creating jobs.
Strategies like lengthening the amortization period and lowering interest rates on renewable energy could make the cost per month to consumers less than conventional power in many states.
Allowing efficiency and on-site renewables to bid into forward capacity markets makes clean energy competitive with even the cheapest and dirtiest fossil fuel power for utilities.
Feed-in tariffs assure that renewables will pay for themselves.
And fuel standards could be raised to 50 mpg – something that is achievable with several cars now available.  And improved batteries have made EVs practical.
Taxing embedded carbon on imports would force exporters to lower carbon emissions, eliminating the fear of foreign "free-riders."
Agricultural polices could make our farms and forests carbon sinks – actually removing carbon from the atmosphere – while improving the quality and sustainability of our food supplies and soils.
So, yes, we can meet this challenge, if we haven't bumbled into positive feedbacks like some planetary-scale Inspector Clouseau.
What would it take?
People often speak about mounting a Manhattan Project level of effort to achieve this.
Wrong scale.
How about a World War II magnitude endeavor?
Too timid.
The bottom line is, it would take an effort unlike any humanity has ever attempted for us to avoid catastrophic global warming and devastating ocean acidification.  We would have to march in lock-step as a species, making carbon the obsessive focus of all we do, in every facet of our life, if we hope to awaken Scrooge-like, a changed species, filled with redemption, converted from history's greatest villain, to its greatest hero.
Solutions?  Sure, they're out there.
But as I tell my friends, when it comes to actually using them, and using them in time, I am hopeful, but I am not optimistic.
And of course, if we have triggered feedbacks …
* Published on Tuesday, September 25, 2012 by Common Dreams
**John Atcheson is author of the novel, A Being Darkly Wise, an eco-thriller and Book One of a Trilogy centered on global warming. His writing has appeared in The New York Times, the Washington Post, the Baltimore Sun, the San Jose Mercury News and other major newspapers. Atcheson's book reviews are featured on Climateprogess.org.
If You Aren't Alarmed about Climate, You Aren't Paying Attention,
From Grist, written by David Roberts (minor edits by OV)
A Few Things We Know:
We know we've raised global average temperatures around 0.8 degrees C so far. We know that 2 degrees C is where most scientists predict catastrophic and irreversible impacts. And we know that we are currently on a trajectory that will push temperatures up 4 degrees or more by the end of the century.
What would 4 degrees look like? A recent World Bank review of the science reminds us that first,  it'll get hot:
Projections for a 4°C world show a dramatic increase in the intensity and frequency of high-temperature extremes. Recent extreme heat waves such as in Russia in 2010 are likely to become the new normal summer in a 4°C world. Tropical South America, central Africa, and all tropical islands in the Pacific are likely to regularly experience heat waves of unprecedented magnitude and duration. In this new high-temperature climate regime, the coolest months are likely to be substantially warmer than the warmest months at the end of the 20th century. In regions such as the Mediterranean, North Africa, the Middle East, and the Tibetan plateau, almost all summer months are likely to be warmer than the most extreme heat waves presently experienced. For example, the warmest July in the Mediterranean region could be 9°C warmer than today's warmest July.
Extreme heat waves in recent years have had severe impacts, causing heat-related deaths, forest fires, and harvest losses. The impacts of the extreme heat waves projected for a 4°C world have not been evaluated, but they could be expected to vastly exceed the consequences experienced to date and potentially exceed the adaptive capacities of many societies and natural systems. [my emphasis]
Warming to 4 degrees would also lead to "an increase of about 150 percent in acidity of the ocean," leading to levels of acidity "unparalleled in Earth's history." That's bad news for, say, coral reefs:
The combination of thermally induced bleaching events, ocean acidification, and sea-level rise threatens large fractions of coral reefs even at 1.5°C global warming. The regional extinction of entire coral reef ecosystems, which could occur well before 4°C is reached, would have profound consequences for their dependent species and for the people who depend on them for food, income, tourism, and shoreline protection.
It will also "likely lead to a sea-level rise of 0.5 to 1 meter, and possibly more, by 2100, with several meters more to be realized in the coming centuries." That rise won't be spread evenly, even within regions and countries — regions close to the equator will see even higher seas.
There are also indications that it would "significantly exacerbate existing water scarcity in many regions, particularly northern and eastern Africa, the Middle East, and South Asia, while additional countries in Africa would be newly confronted with water scarcity on a national scale due to population growth."
Also, more extreme weather events:
Ecosystems will be affected by more frequent extreme weather events, such as forest loss due to droughts and wildfire exacerbated by land use and agricultural expansion. In Amazonia, forest fires could as much as double by 2050 with warming of approximately 1.5°C to 2°C above preindustrial levels. Changes would be expected to be even more severe in a 4°C world.
Also loss of biodiversity and ecosystem services:
In a 4°C world, climate change seems likely to become the dominant driver of ecosystem shifts, surpassing habitat destruction as the greatest threat to biodiversity. Recent research suggests that large-scale loss of biodiversity is likely to occur in a 4°C world, with climate change and high CO2 concentration driving a transition of the Earth's ecosystems into a state unknown in human experience. Ecosystem damage would be expected to dramatically reduce the provision of ecosystem services on which society depends (for example, fisheries and protection of coastline afforded by coral reefs and mangroves.)
New research also indicates a "rapidly rising risk of crop yield reductions as the world warms." So food will be tough.
All this will add up to "large-scale displacement of populations and have adverse consequences for human security and economic and trade systems." Given the uncertainties and long-tail risks involved, "there is no certainty that adaptation to a 4°C world is possible." There's a small but non-trivial chance of advanced civilization breaking down entirely.
Now ponder the fact that some scenarios show us going up to 6 degrees by the end of the century, a level of devastation we have not studied and barely know how to conceive. Ponder the fact that somewhere along the line, though we don't know exactly where, enough self-reinforcing feedback loops will be running to make climate change unstoppable and irreversible for centuries to come. That would mean handing our grandchildren and their grandchildren not only a burned, chaotic, denuded world, but a world that is inexorably more inhospitable with every passing decade.
To understand climate change, listen to us — and Sandy, too
By Michael MacCracken and James J. McCarthy
Following two of the most destructive years for climate catastrophes, President Obama is now calling for a "wide-ranging" conversation with scientists. Let's talk.
As climate scientists who've together spent decades studying how and why our climate is changing, we welcome that opportunity. "Frankenstorm" Sandy brought a message for you and all of us: climate change impacts are here now, right now.
Climate change clearly contributed to Hurricane Sandy, one of the most destructive superstorms in U.S. history. On the stretch of the Atlantic Coast we call home, sea level is rising four times faster than the global average. Global warming is heating the Atlantic Ocean and increasing atmospheric water vapor loading, both of which contributed to Sandy's power and deluge.
Were Sandy just a single disaster, the story might end there. Unfortunately it is not. The insurance giant Munich Re reports annual weather-related loss events have quintupled in the United States, costing Americans more than a trillion dollars.
This year we have suffered through a string of record-breaking extreme weather events, all worsened by climate change. These included "Summer in March"; the hottest month in U.S. history (July 2012); the worst drought since the 1950s; and a wildfire season that is rivaling the worst ever, a record set only six year ago. In 2011, the United States broke its record for the most billion-dollar weather disasters in a year: 14, totaling $47 billion. And this year's number of disasters puts it on track to be No. 2.
The last few years are part of a longer trend of climatic disruption that is impacting communities and the world here and now. Already, observations indicate that the ranges of more than a thousand species are shifting poleward and up mountainsides to escape the increasing heat; CO2-driven ocean acidification is starting to dissolve coral reefs; the number of regions experiencing drought have doubled since the 1970s; over the past 10 years, wildfires in the American West burned twice as much land area each year as they did just 40 years ago; twice as many high temperature records have been set in the past decade as record lows; and both the minimum area and minimum volume of Arctic sea ice each summer are well below their values of 30 years ago with records set in 2012.
The danger of such large changes, accompanied by an increased frequency and intensity of extreme weather, loss of biodiversity, imperiled food systems, a 2- to 4-foot sea level rise, and myriad national security risks, will present enormous challenges to our nation's infrastructure and landscapes and to the well-being of people and communities around the globe.
An increasingly disruptive climate and a bankrupt nation could be the legacy we leave our children. According to projections presented to the U.S. Congress by Tufts University economist Frank Ackerman, inaction will cost our nation more than 1 percent of GDP by 2025 — more than $200 billion a year. And costs will skyrocket from there to an estimated $1.8 trillion a year by 2100.
The next four years — the second term of President Obama's administration — will be critical. Faith Birol, chief economist for the usually conservative International Energy Agency, has repeatedly said that real progress toward a low-carbon economy needs to start very soon to avoid warming of 6 to 10 degrees Fahrenheit by the end of the century.
Patience and credence can no longer be given to those denying climate change. The delays that these so-called "skeptics" and vested fossil-fuel interests are causing in the face of convincing detection and attribution only increase the staggering costs of adaptation and relocation.
Having seen the devastating impacts of Sandy, at least a few leaders in Washington seem poised to acknowledge what scientific analyses have clearly shown: human activities are causing climate disruption. Whether encouraged and forced by regulations, product standards, a cap-and-trade policy, or a carbon tax (possibly with a proportional dividend to every American), we need a national policy to initiate the transition to a low-carbon economy.
Investing in energy efficiency and switching from use of coal, petroleum, and natural gas to primary reliance on renewable wind and solar energy is a change that we CAN make. Switching away from petroleum would also build independence from OPEC and fossil fuel cartels.
According to Bloomberg Finance, the best wind farms in the world already produce power as economically as coal, gas and nuclear generators, and solar energy is proving a good investment in many states. Iowa now generates nearly 20 percent of its electricity from wind energy and Colorado and Oregon more than 10 percent.
Clean energy is the fastest-growing industry in the U.S. today, growing at a rate of 8.3 percent, creating vital American jobs despite the depressed economy and the fact that over the past century fossil fuels have received subsidies 75 times the size of those for renewables since the mid-1990s.
We saw inspiring political leadership when Sandy struck. Now we need equally bold and visionary action that taps into the best in ingenuity and technology that our country has to offer. Encouraging both economic development and environmental well-being requires creation of a modern, clean energy system that protects both our nation and our environment.
The scientific community is eager to engage in the conversation the President seeks, but we all must recognize that the conversation must turn quickly from talk to action. This story can have an ending we can live with. It is up to us.
Michael MacCracken is chief scientist for Climate Change Programs at the Climate Institute in Washington. James J. McCarthy is a professor of ocean science at Harvard University and former president of the American Association for the Advancement of Science.
Excerpt from letter by Credo (see page on exporting our gas):
Fracked gas is mostly methane, a potent greenhouse gas that leaks from natural gas wells, pipelines, and other infrastructure. Recent research even suggests that methane emissions from fracked natural gas operations are so high that fracking may be worse for the climate than coal.
Exporting fracked gas — which requires a carbon-intensive process of liquefying it, cooling it to -260 degrees Fahrenheit, and shipping it — produces 20%-30% more CO2 than burning gas in the U.S.
Bottom line: No matter how you do the math, a world that runs on natural gas is a world wracked by climate chaos and extreme weather — deadly superstorms, wildfires, droughts, and floods.5 We need to move away from fossil fuels, not make massive investments in new infrastructure that will lock us into dirty fracked gas for years to come.
In short, the human toll taken by fracking is already far too high. Giving the fracking industry an incentive to expand its operations by allowing it to export fracked gas overseas is nothing short of irresponsible.
For the United States, 2012 was the hottest year in recorded history. A slew of climate change-driven disasters — including deadly Superstorm Sandy — underscored the dangers associated with unchecked climate change.